Factory Customization UV Ink For Ricoh G5 G6 UV Printer | wholesale LED UV Ink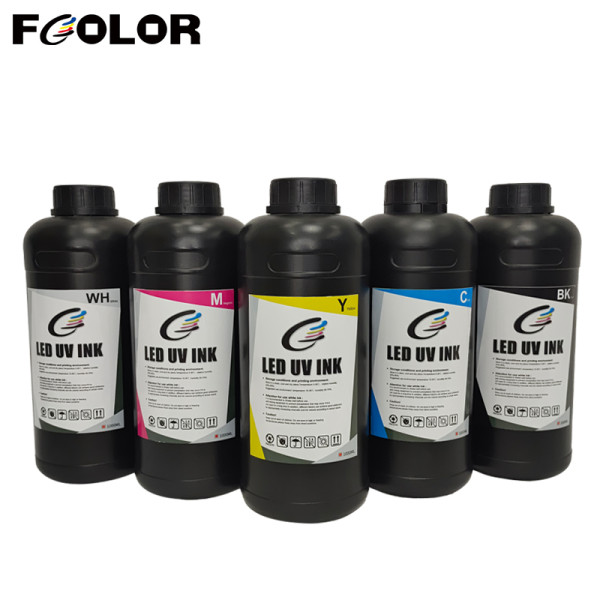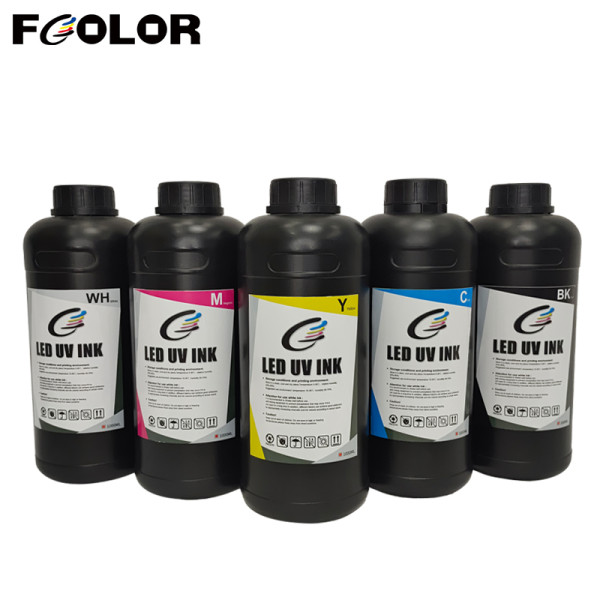 | | |
| --- | --- |
| Categories | Led UV Ink |
| Brand | Fcolor Printer Supplies Wholesale Manufacturer |
| color | Magenta | Yellow | Cyan | Black | White |
| Applicable model | Ricoh series piezoelectric nozzle special UV print |
| Terms of Payment | L/C, D/A, D/P, Western Union, MoneyGram, T/T, Paypal |
| Update Time | September 23,2023 |
Factory Customization UV Ink For Ricoh G5 G6 UV Printer | wholesale LED UV Ink
| | |
| --- | --- |
| Product Name | LED UV Ink |
| Brand | Fcolor |
| Article Number | UV 8014 |
| Shelf life | 6-12 Months |
| Capacity | 1000ML |
| Size | 22.2cm*8.6cm |
| Color | magenta | light magenta | yellow | cyan | light cyan | blak | light blak | white |
| Applicable Models | Suitable for Xaar-126/Konica mercury lamp/Konica 512 LED/Epson LED/Japan Seiko and other UV flatbed machines |
| Applicable print heads | For Epson 5th, 6th, and 7th print heads |
| Applicable Media | Leather, wood, crystal, PVC, ABS, acrylic, plastic, stone, rubber, CD, sticky notes, light box cloth, glass, ceramics, metal, like paper, etc. |
| Customizable | Yes |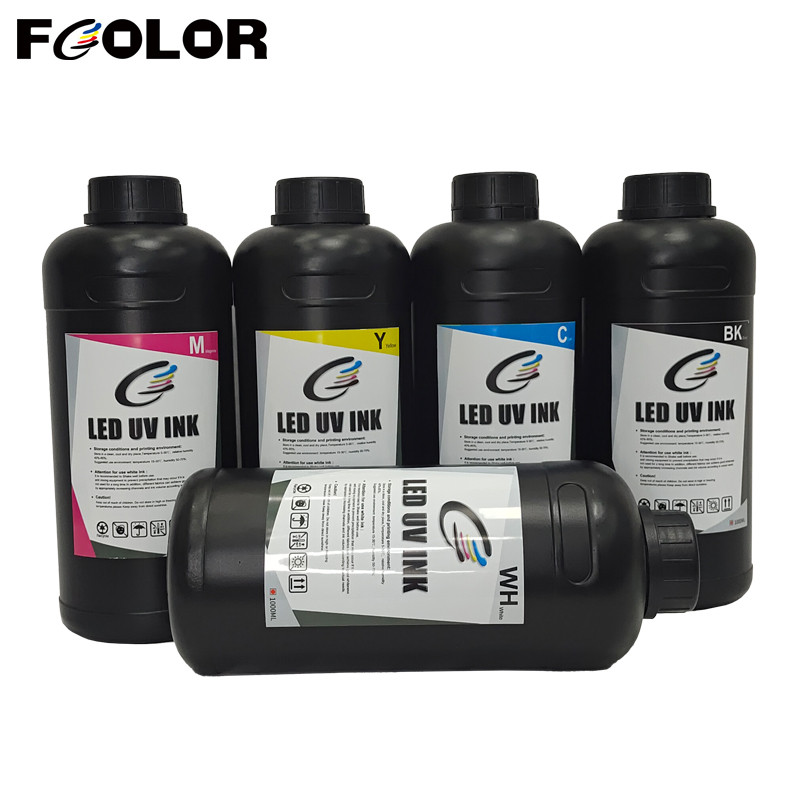 UV ink can be used together with white ink, so many manufacturers can now print some beautiful relief effects.
This is to use white ink to accumulate relief effects, and then use color UV ink to print it once.
In addition, UV ink can be directly used to print many materials without any coating treatment, which is simple, convenient and practical.
It can be printed on paper/metal/ceramic/leather/wood/glass/PVC/KT board/acrylic and other planar or slightly curved materials.
Some materials need to be coated to achieve better performance.

Storage Conditions And Personal Protection

1. Store in dark and cool conditions;
2. Under the above conditions, the storage period can be 1 year, including 6 months for white ink
3. After the sealing aluminum film is opened, be careful not to let dust and sundries enter;
4. The recommended temperature for printing is 40 ℃, or select according to the "Viscosity Temperature Change Curve"
5. Store in a black, closed container in a cool, dry place, away from direct sunlight and sources of ignition.
6. Try to avoid skin contact with uncured ink; If you accidentally touch the skin, first wipe it with a cloth or paper towel, and then wash it with soap.
7. In case of skin allergy, please go to the hospital in time.
1. This product is oily ink. Keep the bottle mouth clean before use to avoid light;
2. When using this product for the second time, clean other ink in the pipeline with cleaning solution first;
3. Ink from different manufacturers and models cannot be mixed;
4. Keep tools clean when adding ink;
5. In other cases, please consult the technician.
1. Rigid: It is applicable to hard printing media that cannot be bent or folded. It is more applicable to plate media. The fastness has super adhesion when it is adsorbed on the media surface.
2. Neutral: It is suitable for small-scale multi media printing. It is necessary to ensure that hard media materials can be used and soft media printing can be accepted by customers. In this case, it is recommended to use neutral ink, which has waterproof function at the same time.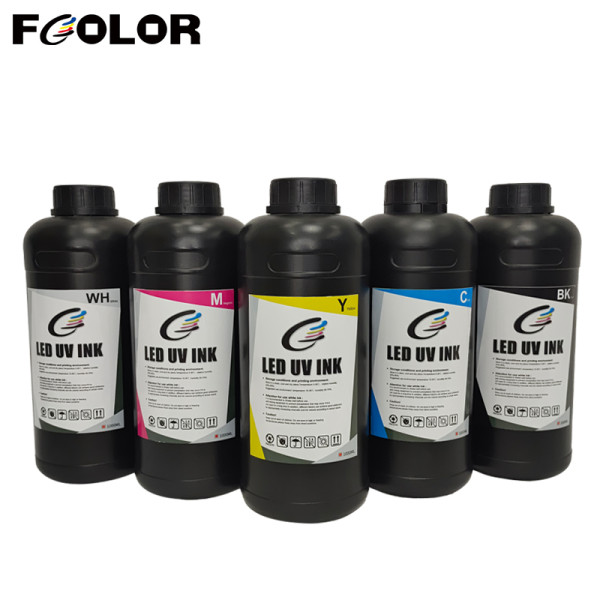 This product is applicable to the UV flat machine dedicated to Ricoh series piezoelectric nozzles.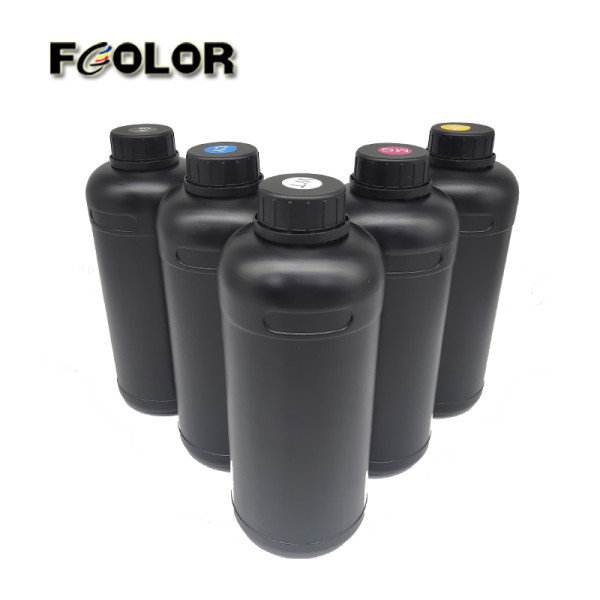 uv ink for UV inkjet printer ,printing metal, glass, ceramics, PC, PVC, ABS and other materials etc
Please send your message to us